Membrane Ultrafiltration (UF)
Ultrafiltration (UF) produces a high quality effluent, devoid of nearly all TSS (Total Suspended Solids), FOG (Fat Oil and Grease) and other contaminants such as Dissolved Metals. It is frequently the preferred choice of filtration after Dissolved Air Flotation (DAF) and prior to Reverse Osmosis (RO). The design configuration is based upon the chemical analysis of the wastewater content and the desired effluent quality.
About Membrane Ultrafiltration (UF)
Size can range from 25 to 2500gpm or more. UF filtrate (clean water) can be further treated by RO to take out salt and other dissolved solids. The system can also be equipped with 100% redundant capacity, allowing the plant to continue full treatment even when one skid requires backwashing or maintenance. The entire system is operated by an automated PLC control system.
During the ultrafiltration process, inorganic salts will pass through the membranes and organic matter will be retained on the membrane surface or removed in the concentrate stream.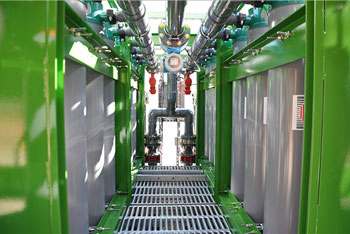 PLC controlled, touch screen operation
Redundant system capability
Factory-tested, skid mounted for ease of installation
VFD for UF feed pumps to maximize efficiency
Schedule 80 PVC piping for pressures below 120 psi
Sample valves throughout for ease of operation
Automatic membrane flushing with UF filtrate
Clean In Place (CIP) Chemical cleaning/filtrate flush system included
Complete O&M manuals
System Benefits and Applications
TSS/FOG pre-membrane reduction >70%
TSS reduction to <2 mg/L
Non-Soluble BOD reduction to <5 mg/L
100% membrane redundancy (optional)
Less maintenance
Skidded treatment units for easy installation
Process and waste water treatment
Drinking / Potable water
Protein concentration / cheese manufacture
Desalting and solvent exchange
Enzyme recovery